Under Fire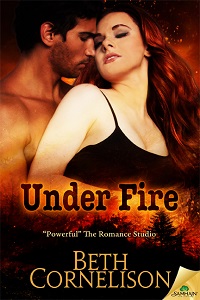 Late at night, terrorists kidnap research chemist Jackson McKay and his daughter and take them to the Idaho mountains. Jackson's captors demand he turn over his research files on a chemical compound that can create a devastatingly lethal chemical weapon– or else his daughter will die. Desperate for a way to save his daughter and also protect his country from the terrorists, Jackson makes a daring escape, setting in motion a deadly game of cat and mouse.
Arriving at the scene of a wildfire, smokejumper Lauren Michaels and her crew are caught in the crossfire of Jackson's nightmare. When her fellow smokejumpers fall victim to the terrorists' savagery, Lauren must help Jackson save his daughter and send rescue teams for her surviving friends.
Pursued by a sniper, Jackson and Lauren embark on a treacherous journey off the burning mountain. But they soon find more than their lives at risk, because the unexpected heat that flares between them may cost them their hearts...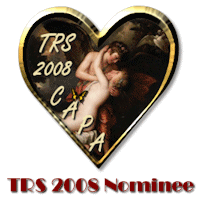 Nominated for a CAPA Award by the reviewers of The Romance Studio
Awards and Honors
3rd place- 2004 Maggie (Georgia Romance Writers)

Finalist - 2010 Heart of Excellence Contest
---

"The suspense pulls readers into UNDER FIRE and never lets go until every emotionally affecting conflict is resolved. Five Stars! ..the tension-filled opposition between characters is superbly written. Beth Cornelison keeps the anticipation riveting. UNDER FIRE grabs the reader with its intriguingly action-packed plot, while the genuine emotions keep you enthralled." -- Amelia Richard, ECataromance
"Beth Cornelison writes intriguing, emotionally-charged stories that will keep you turning the pages straight through to the end. Fabulous entertainment!" -- Susan Wiggs
"When I opened this book and saw it was over three hundred pages, I thought this would take a while to read. I was wrong. Under Fire opens up emotionally charged, and the tension and suspense continues through to the last page. Along the journey, secrets are revealed and new conflicts arise. This is a fantastic novel and Beth Cornelison is a fantastic suspense writer. Her characters were so well-written that they all felt like major characters, no matter how small their presence in the book was. None of her characters were one-dimensional. Even the terrorists had hearts and conjured feelings of sympathy from me. The relationship between Lauren and Jackson, which evolved from a need to expend built-up tension, did not take away from the high suspense and intrigue of the story. Under Fire is an exhilarating, high tension story and Ms. Cornelison's side effect warnings of racing pulse, missed sleep, and nail-biting have been scientifically proven. I enjoyed every word of Under Fire and I Joyfully Recommend it." -- Joyfully Reviewed
"Many authors can do a great suspense story but not all of them do the kind of job this author does in weaving the terrorists with heroic smokejumpers and the budding love story between Jackson and Lauren. As in reality, a good love story isn't without its ups and downs. Jackson, Lauren and Emily surely have their share. Beth Cornelison does a great job of keeping each segment of the tale running smoothly in parallel then brings it all together for a powerful ending." Overall Rating: 5 hearts -- Dee Dailey, The Romance Studio
---

August 25
Jackson McKay woke with a jolt.
He sensed the intruders in his bedroom seconds before a sweaty palm was slapped over his mouth. Adrenaline instantly hummed through him, jump starting his senses.
Twisting away, he fought the hands grabbing him and the sheet wrapping around his legs. Fought until his right arm was wrenched awkwardly behind his back.
He grunted as something hard, probably his assailant's knee, jabbed him between the shoulder blades. The knee pinned him face down on the mattress. In the dark of his bedroom, he saw only black figures moving around his bed. Four of them, counting the ape on his back. Not good odds, even if he were trained in martial arts- which he wasn't- or had a weapon- which he didn't.
"Get off of me, you sonofabitch!" Jackson growled.
In answer, the cold kiss of a gun muzzle jammed against his ear. "Don't. Move."
The dark tone of the command said these were no ordinary burglars. An icy chill washed through him. Emily! God, don't let them hurt Emily!
"What's this about? What do you want?" Jackson struggled to clear his mind, to devise a plan of defense.
"Get up, Doctor. Nice and slow. No sudden moves, or I'll blow a hole in your over-educated brain." The voice was male. Grim. Deep. Unrepentant.
Jackson sat up, his arm still bent at a painful angle behind him. His bed creaked in the thick silence.
"I have nothing of value in the house. Everything of worth is in the lock box at the bank."
His captor scoffed. "This isn't about money. At least not yours."
The intruder jerked Jackson's other arm behind him as well, and pain streaked through his bad shoulder. He heard the screech of tape ripping from the roll, his only warning before his wrists were bound. Adhesive pulled the hairs on his arms, and the fibrous tape cut into his flesh.
"If not money, then what do you want?"
The too-sweet scent of roses tinged the air. Grew stronger. Jackson stifled the urge to vomit. The smell of roses still reminded him of death. Janine's funeral. The memories still so raw, so fresh. He funneled his grief into anger, used the spike in his blood pressure to sharpen his mind, his best tool.
Surely the break-in had triggered his security system's silent alarm, alerted the police department. If he could stall, keep the goons away from Emily's room until the cops arrived...
"This will only hurt for a minute," a female voice said, the source of the rose scent.
When the woman seized his arm, he twisted and shrugged away. For his efforts, he earned a thwack across the jaw from the butt of the first man's gun. His ears rang, and pain exploded through his head.
He suppressed the impulse to rage at the intruders, tackle them and swing wildly, releasing pent up fury for his wife's violent death. But a ruckus would wake Emily, his eight-year-old daughter. She'd leave her room to explore the source of the noise, end up in the thick of things...
God, he'd die if anything happened to his little girl.
Stay in bed Emily! Stay quiet!
With his focus on the pain reverberating in his skull, he almost missed the prick in his arm. The sting in his bicep. "What the hell? What'd you just give me?"
"A sedative. You'll sleep soon. It will go much easier on you this way," the woman said.
"What will go easier? What are you bastards after?" But deep in his gut, Jackson knew. Somehow his research had been compromised.