Trust In Me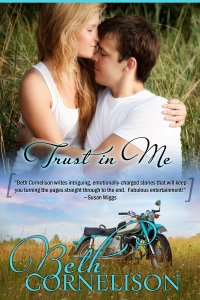 A hero for the rest of us?
Escaping the cheating fiancť and sheltered life her father has arranged for her, Claire Albritton wants nothing more than to take control of her life and learn to fight her own battles.
Kevin Fuller believes he must rescue damsels in distress and Claire is decidedly out of her element in small town South Carolina. When trouble inevitably finds Claire, Kevin's white knight protection and heroics are exactly what Claire doesn't want. But his kisses...that's another matter.
---

"This was a lovely little small-town romance. The story was simple and sweet; beautifully written, featuring likeable characters and a heart-warming love story. Iíll be sure to keep this author on my radar from here on out." --Meag, Goodreads
"Trust in Me was a sweet and quick read that I couldn't put down... This story was cute and sweet. You drawn into their world and unable to stop until you reach the last page. Overall this was a great romance. It was heart wrenching, sweet, and swoon worthy with just the right amount of drama." -- Darkfallen, Goodreads
"I found it a very, very cute read. Loved Claire and love, love loved Kevin!! Maybe I need to start hanging around in hardware stores to see if I can meet a Prince Charming like he was!! I'll most def check out more of Beth's books." -- Krista Ashe, Goodreads
"Trust In Me by Beth Cornelison was a different, yet intriguing and all-together unique book on todayís market. I enjoyed Trust In Me and once I picked it up, I didnít want to put it down. Itís a quick read, one that flows smoothly and offers the reader an insight into all minds involved. This book latched on to my attention after a few chapters and while some times I wanted to shake the two characters into talking, I also found myself really pushing for them to continue. I would recommend this book to anyone looking for a quick weekend read and a sweet, sizzling romance. Four out of five stars." -- D.C., Goodreads
"This is such a sweet heartfelt read. Perfect for a rainy day. Once I started reading I couldn't put it down. There's just enough drama and romance to keep you glued to the pages. The romance that developed between Claire and Kevin was just so sweet, it took my breath away:) Such a sweet story. Would definately recommend this to 18+ adult contemparary romance lovers." -- Cassandra, Goodreads
"This was a nice Romeo & Juliet story with a happy ending. Kevin the poor guy and Claire the rich Deb meet after Claire leaves home to find her independence from her father and a cheating fiance and finds that you can Love someone and be Loved by someone for yourself and not who you are or what you have." -- Peggy, Goodreads
"Short story truly worth reading. It's about finding independence, financial freedom, friendships, acceptance, true love & so much more. Surprising coming from such a small story. Some could day predictable, yes. But, for that matter isn't all our lives when we first start out its the the decisions we choose make along the way that count. This small love story gives you that & much move." -- Char, Goodreads
"TRUST IN ME is a very nice love story between two very likable people in a small college town in South Carolina. There are only a few characters to keep track of and all of them have well-defined and complex personalities. The dialogue is authentic and fun to read while the imagery is very graphic and realistic. The writing is smooth and flows easily from beginning to end. The plot is a bit predictable but I didn't mind because this story is exactly what it claims to be: a contemporary romance. Overall, though, I enjoyed reading this story and I would definitely recommend it to others who like this genre." -- Reviewer, Amazon
"I really liked this love story between Claire & Kevin. I love books that take place in small towns. This book has some humor, I found myself laughing quite a few times. It was a great story. I would recommend to anyone to read." -- Sam Brown, Amazon
---

The rumble of a loud engine called her out of her thoughts and to the motorcycle rounding the building. She squinted through the darkness at the rider. Kevin?
Her heart executed a flawless forward roll. Kevin planned to take her home on a motorcycle?
He pulled up next to her and killed the engine. Tugging off the helmet, he extended it toward her. "Here, you wear this. I only have one, and I'd rather you wear it."
She gaped at him a moment, unmoving, numb with trepidation.
"A m-motorcycle?"
His chestnut eyebrows whipped together. "Is that a problem? I guess I should have explained ... I don't have a car."
"Is it safe?"
He grinned. "As long as we don't crash."
Her pulse jumped, sending adrenaline scampering through her blood. Her face must have reflected her doubts, because Kevin sobered quickly and raised a hand toward her. "Sorry, I guess I shouldn't joke about it. I'll drive slow, and you'll be safe. I promise."
The warmth and concern in his gaze reached deep inside her, calming her nerves more than his words could. Her soul seemed to know instinctively to trust Kevin. She accepted the helmet with a trembling hand and drew a slow breath for courage. Pulling the helmet on, she fastened the chinstrap and lifted her gaze to Kevin for assurance she'd put the protective gear on correctly.
He grinned then slapped the seat behind him. "Swing a leg over and hold tight to me. On turns, lean with me."
She nodded and took another deep breath, inhaling the aroma of sweat, leather and soap inside the helmet. The intoxicating blend of scents spun her senses in new directions, all centered around Kevin. She clambered onto the motorcycle, self-conscious over her lack of finesse. If Kevin noticed her fumbling, he had the courtesy not to comment. Thank goodness she'd worn slacks today, a concession to comfort her mother would have never approved of, but which now proved a good choice.
Kevin started the engine, and Claire wrapped her arms around his chest, pressing herself close to his broad back. The rumbling engine echoed the thrum of her pulse, and she squeezed her eyes shut.
As he prepared to drive away, Kevin shifted his weight, and the bike rocked. She gasped and clutched his shirt tighter.
Placing a hand on her leg, he gave her knee a quick squeeze and turned his head toward her. "You can trust me, you know. I'd never let you fall."
The slow and steady beat of his heart thudded under her clutching hands, reaffirming his promise. Her heart answered with a hard ka-thump. She sensed that Kevin's promise was something she could hold onto, something steady and true. But hadn't she been wrong about Blaine?
Claire cleared the choking tension from her throat. "I'm ready."
Given her go-ahead, Kevin gunned the engine, and they drove from the parking lot onto the dark street. The humid summer air rushed up to greet them, bringing the sweet fragrance of cut grass and honeysuckle. She clung to Kevin's chest, hiding her eyes on his shoulder, mentally counting off the blocks to Mrs. Proctor's house. After a moment to acclimate herself, though, Claire lifted her head to watch where they were going. Wind buffeted her face and teased her senses. Though she knew Kevin held back on her account, even their moderate speed gave her an unexpected thrill like the exhilaration she'd known when she'd braved the roller coaster at Six Flags.
Slowly her trepidation eased into an enthusiasm for the new experience. Her grip of Kevin's shirt loosened, and she flattened her hands against his chest. As Kevin steered them around a corner, the play of muscles under her fingers guided her focus to the hard body she snuggled against. Crushed against his back, her breasts tingled with an awareness of the intimate contact. Her thighs gripped his more tightly, and her hands took free rein to explore the contours of his taut chest. With the motorcycle rumbling beneath her and images of Kevin's bare torso still dancing through her mind, her position toyed with her imagination. Having her body closely aligned with his became a sensual feast, and every nerve in her body hummed expectantly. The exhilarating ride and the thrill of holding Kevin close merged, mingled, a heady combination of man and machine.